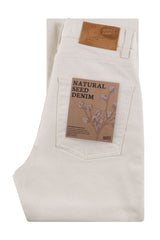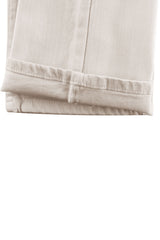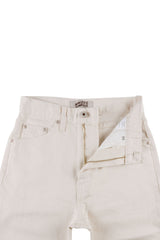 Naked & Famous
W Classic Natural Denim
Women's Classic Natural Denim Jeans from Naked and Famous.
An undyed 10oz denim with the cotton seeds left intact. Early in cotton processing, the seeds are usually removed to ensure uniform texture and color. This denim, though, is the untouched natural color of cotton with the cotton seeds present as small brown flecks adding depth and warmth to the fabric.
This lightweight denim is made with 2% stretch for added comfort, without compromising durability – great for warmer weather. Other details include tonal stitching, brown pull up leather patch, and silver metallic buttons and rivets. Rinse washed.
The Classic is a high rise fit with a roomy straight leg that falls to a wide leg opening.
Composition: 98% Cotton / 2% Elastane
Color: Natural
Fabric Weight: 10oz
Fabric Origin: Japan
Made in: Canada
If you have any questions regarding this product, please feel free to contact us at info@manifestoshop.com or, drop us a quick message in the chat icon on the bottom right of your screen.

Unless otherwise stated, this Returns Policy applies to both in-store full-priced purchases and online full-priced purchases. Sales and discounted items are strictly not eligible for a return and exchange.

Merchandise may be exchanged (subject to stock availability) or returned within 10 days of purchase provided that:
(1) all tags, certificates, warranties, care instructions, product labeling, authenticity cards, extra buttons, hangers, dust bags and boxes (in the case of shoes) are intact and returned together with the Merchandise;
(2) the original invoice is presented;
(3) in the case of returns or exchanges of online purchases returned or exchanged in store, the order confirmation number of the online purchases is presented;
(4) the Merchandise is unworn and in sellable condition
(5) the Merchandise can be returned and exchanged for other Merchandise(s) of equal or higher value only.
Returns and exchanges outside 10 days of purchase or receipt of Merchandise (as the case may be) may be accepted at the sole discretion of Manifesto.

For online purchases, international returns must be sent via DHL Express. Customers will take full responsibility for the returns if they do not send the Merchandise via DHL Express. Manifesto reserves the right to refuse returns that are not made via DHL Express. 

For online purchases, please contact Customer Care team at +65 6304 7948 or email to info@manifestoshop.com for returns and exchanges. Returns and exchanges in Stores can only be made in the Stores of the country where the online orders are made. Strictly no refunds.
*Please note that the Customer should bear the shipping cost for returning the item(s) to Manifesto and be responsible for the safety of the delivery (if the return is classified under "Unopened").
MEN READY TO WEAR SIZE CHART
| | | | | | |
| --- | --- | --- | --- | --- | --- |
| US | 4 | 6 | 8 | 10 | 12 |
| UK | 8 | 10 | 12 | 14 | 16 |
| ITALY | 48 | 50 | 52 | 54 | 58 |
| JAPAN | XS | S | M | L | XL |
| JERSEYS & KNITWEAR | XS | S | M | L | XL |
WOMEN READY TO WEAR SIZE CHART
| | | | | | | | |
| --- | --- | --- | --- | --- | --- | --- | --- |
| US | 00 | 0 | 2-4 | 4-6 | 8 | 10 | 12 |
| UK | 4 | 6 | 8 | 10 | 12 | 14 | 16 |
| ITALY | 36 | 38 | 40 | 42 | 44 | 46 | 48 |
| FRANCE | 32 | 34 | 36 | 38 | 40 | 42 | 44 |
| DENMARK | 30 | 32 | 34 | 36 | 38 | 40 | 42 |
| RUSSIA | 38 | 40 | 42 | 44 | 46 | 48 | 50 |
| GERMANY | 30 | 32 | 34 | 36 | 38 | 40 | 42 |
| AUSTRALIA | 4 | 6 | 8 | 10 | 12 | 14 | 16 |
| JAPAN | 3 | 5 | 7 | 9 | 11 | 13 | 15 |
| JEANS | 23 | 25 | 27 | 28 | 30 | 32 | 33 |
| | XXS | XS | S | M | L | XL | XXL |
WOMEN SHOE SIZE CHART
| | | | | | | | | | |
| --- | --- | --- | --- | --- | --- | --- | --- | --- | --- |
| US | 4 | 5 | 6 | 7 | 8 | 9 | 10 | 11 | 12 |
| UK | 1 | 2 | 3 | 4 | 5 | 6 | 7 | 8 | 9 |
| ITALY/EU | 34 | 35 | 36 | 37 | 38 | 39 | 40 | 41 | 42 |
| FRANCE | 35 | 36 | 37 | 38 | 39 | 40 | 41 | 42 | 43 |