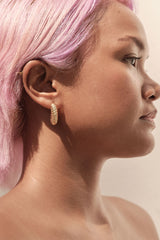 Saturn Gold Stud Hoop Earrings
SATURN
6th planet from the Sun

Embodied with glorious rings and refined curvatures, this pair of hoop earrings spans 2.5 cm in diameter and is held firmly in place by butterfly backs. Casted in recycled bronze and plated in 18k gold with a brilliant finish. Striking from all angles and hangs snugly on the lobes. Be warned of Saturn's magnetic pull.

- 18k gold plated over recycled bronze
- 2.5 cm diameter, 8 mm thick
- Handmade in Bali

More about the COSMOS collection by PYAR:
MISSION I : To ascend into a collective love consciousness where positive aspects of the self are illuminated to unify.

A galaxy of planets in the scheme of nature inspires the Cosmos collection of hoop earrings. Guided by the transformative qualities of these luminous orbs, we reimagine the celestial bodies of rings, ice, rocks, dust and clouds as atmospheric jewellery casted in recycled bronze then plated in 18k gold — timeless refinement to grace the lobes. Mood enhancers, like a reliable love song that lift the spirits. Moving through space and time, uncovering stories untold in history books to reveal and embrace new realities within. A reminder that we are all connected under the same sky.
________
For any questions regarding this product, please feel free to contact us at info@manifestoshop.com or, drop us a quick message in the chat icon on the bottom right of your screen.
Unless otherwise stated, this Returns Policy applies to both in-store full-priced purchases and online full-priced purchases. Sales and discounted items are strictly not eligible for a return and exchange.

Merchandise may be exchanged (subject to stock availability) or returned within 10 days of purchase provided that:
(1) all tags, certificates, warranties, care instructions, product labeling, authenticity cards, extra buttons, hangers, dust bags and boxes (in the case of shoes) are intact and returned together with the Merchandise;
(2) the original invoice is presented;
(3) in the case of returns or exchanges of online purchases returned or exchanged in store, the order confirmation number of the online purchases is presented;
(4) the Merchandise is unworn and in sellable condition
(5) the Merchandise can be returned and exchanged for other Merchandise(s) of equal or higher value only.
Returns and exchanges outside 10 days of purchase or receipt of Merchandise (as the case may be) may be accepted at the sole discretion of Manifesto.

For online purchases, international returns must be sent via DHL Express. Customers will take full responsibility for the returns if they do not send the Merchandise via DHL Express. Manifesto reserves the right to refuse returns that are not made via DHL Express. 

For online purchases, please contact Customer Care team at +65 6304 7948 or email to info@manifestoshop.com for returns and exchanges. Returns and exchanges in Stores can only be made in the Stores of the country where the online orders are made. Strictly no refunds.
*Please note that the Customer should bear the shipping cost for returning the item(s) to Manifesto and be responsible for the safety of the delivery (if the return is classified under "Unopened").
MEN READY TO WEAR SIZE CHART
| | | | | | |
| --- | --- | --- | --- | --- | --- |
| US | 4 | 6 | 8 | 10 | 12 |
| UK | 8 | 10 | 12 | 14 | 16 |
| ITALY | 48 | 50 | 52 | 54 | 58 |
| JAPAN | XS | S | M | L | XL |
| JERSEYS & KNITWEAR | XS | S | M | L | XL |
WOMEN READY TO WEAR SIZE CHART
| | | | | | | | |
| --- | --- | --- | --- | --- | --- | --- | --- |
| US | 00 | 0 | 2-4 | 4-6 | 8 | 10 | 12 |
| UK | 4 | 6 | 8 | 10 | 12 | 14 | 16 |
| ITALY | 36 | 38 | 40 | 42 | 44 | 46 | 48 |
| FRANCE | 32 | 34 | 36 | 38 | 40 | 42 | 44 |
| DENMARK | 30 | 32 | 34 | 36 | 38 | 40 | 42 |
| RUSSIA | 38 | 40 | 42 | 44 | 46 | 48 | 50 |
| GERMANY | 30 | 32 | 34 | 36 | 38 | 40 | 42 |
| AUSTRALIA | 4 | 6 | 8 | 10 | 12 | 14 | 16 |
| JAPAN | 3 | 5 | 7 | 9 | 11 | 13 | 15 |
| JEANS | 23 | 25 | 27 | 28 | 30 | 32 | 33 |
| | XXS | XS | S | M | L | XL | XXL |
WOMEN SHOE SIZE CHART
| | | | | | | | | | |
| --- | --- | --- | --- | --- | --- | --- | --- | --- | --- |
| US | 4 | 5 | 6 | 7 | 8 | 9 | 10 | 11 | 12 |
| UK | 1 | 2 | 3 | 4 | 5 | 6 | 7 | 8 | 9 |
| ITALY/EU | 34 | 35 | 36 | 37 | 38 | 39 | 40 | 41 | 42 |
| FRANCE | 35 | 36 | 37 | 38 | 39 | 40 | 41 | 42 | 43 |